Delhi Streets - Indian Affordable
Delhi Streets is an exciting colourful if not chic Indian restaurant in The Archway precinct and has become our new Indian favourite. The World Loves Melbourne feels Melbourne has decent Indian restaurants but not that many of them. Delhi Streets captivates with its approacheable street food, Bollywood posters and fun ambience. In terms of smart cheap eats Delhi Streets has burst on to the scene as a chart topper. We were impressed by the quality of cuisine and the overall experience, having been invited to imbibe the lunch menu.
Delhi Streets is about fun, but with substance. Spectacular is the Pan Puri, Indian street food at it's best, with a sense of theatre. Pour the jug of spiced water into the Pan Puri and get an intense hit of flavour and freshness. Crispy lentil cracker balls stuffed with potatoes, chickpeas, onions, tamarind chutney.
Delhi Streets boasts a funky fit out by the guys at BrandWorks. Modern lighting and seating with a dose of colour, along with playful use of design and textures. The ambience is enhanced by the open kitchen. Service was exceptional during our visit, with staff keen to please.
Delhi Streets had us impressed already, but the high standard continued with the Mixed Thali, including Lamb Curry and Butter Chicken (also told Paneer is good). The Thalis come with rice, pappadums, naan bread and a small amount of salad. The spice was right for us, and you can always amp it up.
Wraps and burgers are also a highlight on the menu. Specialising in Indian street food, nothing is particularly expensive. We think it's the perfect meeting place for friends and groups to catch up.
We enjoyed the modern look with Bollywood posters, artwork including Indian flag artwork, excellent use of timbers and metals, exposed brick, concrete floor, and chic naked bulb lighting. The space is well utilised with modern tables and chairs, but also with stools and counters. Bollywood style music playing also brought colour to the experience.
For dessert we enjoyed Chocolate naan bread, another specialty.
Delhi Streets captured our imagination. Highly recommended.
---
Son in Law - Thai affordable
Son In Law is a delightful modern Thai restaurant that hits the spot on all fronts. Traditional names are present but this is about modern Thai or "Thai with a twist". Good restaurants are run by good people and Tony is an excellent front of house, eager to please. We remember the previous restaurant Ayatana but this is something different. The World Loves Melbourne (David and Mario) was invited to sample the bright vibrant experience that is Son In Law.
The fit out is light and airy with modern design; on trend with casual but smart Melbourne dining. Several dining spaces add interest; such as the downstairs dining area overlooking Johnston St with opportunity to sit at a counter along the window, the upstairs dining area and the dining out the back.
The move to Collingwood has been great for Tony and his wife; with Son and Law busy even over the holiday period.
And no wonder. Every dish we consumed was on point. And comment should be made about the beer and wine list; the best we've ever seen in a Thai restaurant (if that's not patronising). Craft beer overdrive and iconic well chosen trendy wines.
Son in Law Eggs are a must order; Instagram art on a plate but more than that delicious textures and flavours for a simple dish. It set the trend for the night; bright modern food with decent and appropriate levels of spice. Sweetness with heat featuring sweet tamarind, chilli, fried shallots.
Crispy Barramundi Fillets are another highlight, with many of the dishes bringing a crispy style. Delectable small fillets of crispy barra with a fair amount of kick. Roasted dry chilli, mint and coriander, red onion and roasted ground rice come together wonderfully for a flavour packed dish.
Roti came as a separate dish and could be considered a small dish in itself. Well cooked fluffy roti with pleasing peanut sauce was refreshing.
It was also great to see leading bloggers Lisa Eats World and In Love With Brunch in the restaurant.
Service here is excellent with staff vibrant and cheerful.
Another high point was the Crispy Soft Shell Crab and Tiger Prawns; a variation on the traditional Thai Green Curry dish. In fact you can order the Thai Green curry straight up, and if a traditionalist, Son In Law is still for you. Yet we enjoyed the modern and adventurous dishes, with the soft shell crab and tiger prawns cooked perfectly and combining as a seafood triumph against spicy green curry. Enjoyed with coconut rice this was a hugely rewarding dish.
Having eaten plenty, we now imbibed the Twice Cooked Crispy Pork Belly stir fried with chilli jam, green beans, bean shoots, and kaffir lime leaves. We enjoyed this crispy dish; and you need to heed the words "twice cooked crispy" as this is not the typical crispy on the outside tender inside pork belly dish. It's crispy all the way. We love that it is not served as a pile of pork but with crispy beans and bean shoots, and a compelling sauce. Again, this is crispy heaven.
We highly recommend Son In Law as a modern, vibrant, affordable, savvy and cheery Thai restaurant.
---
Hawker Hall - Hawker affordable
Hawker Halls are places where there's a communal feel, and with tasty and affordable dishes. Ok, so you're not going to get a huge bowl of food for $5 here like you might in Singapore, but we're not expecting that. In fact the prices don't seem to be a whole lot more.
Hawker Hall is the latest venture from the people behind flavour institutions Chin Chin, Baby Café & Pizzeria and Kong BBQ. Housed in a historic-turn-of-the-century horse stable, Hawker Hall is a food and beer hall inspired by the vibrant hawker centres of Singapore & Malaysia.
Capturing the spirit of the lively hawker street-food culture of Malaysia and Singapore, the Hawker Hall menu showcases the best of South East Asian cuisine. With almost 70 dishes based on the rich and varied culture of Singapore, Malaysia, Thailand, China, India and more - expect to find Hawker classics such as Nasi Lemak, Char Kway Teow and Hainanese BBQ Chicken Rice.
The World Loves Melbourne loves the Penang Duck Curry with Peanuts and Eggplant. Creamy, tangy and all round delicious with duck perfectly cooked.
The size of the menu creates a unique opportunity to share dishes from all over South East Asia.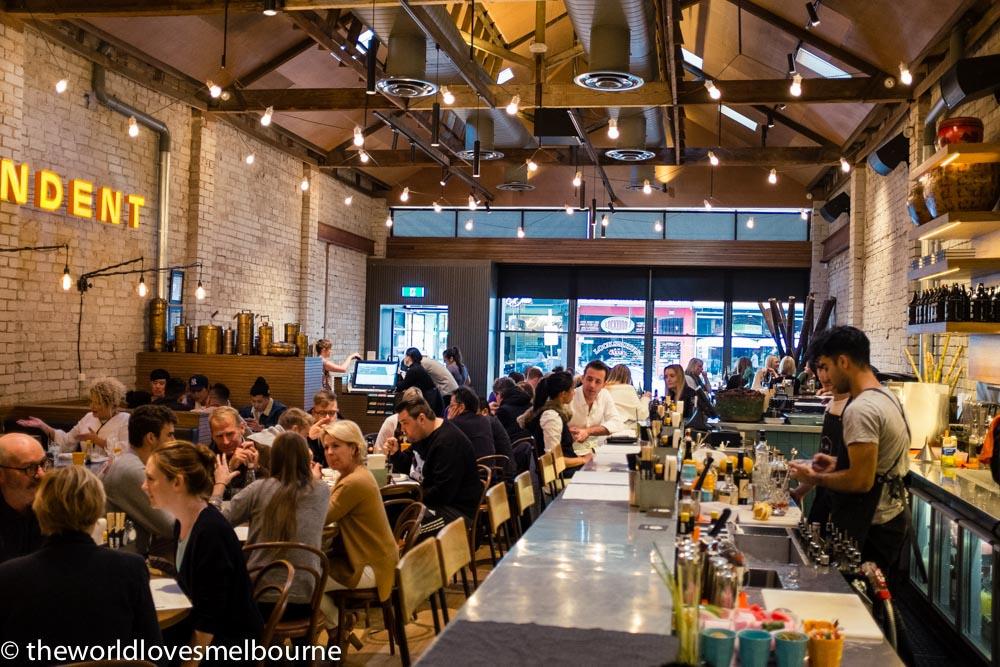 Replicating the many stalls of a hawker market, the Hawker Hall menu is broken down into sections found in a hawker centre. Highlights include:
CKT (Char Kway Teow) – rice noodles, prawn, lup cheong & smoky soy
Hainanese BBQ Chicken Rice – with rice, bok choy & chilli sauce
Otak Otak – salmon in banana leaf
Nasi Lemak – coconut rice, sardines, shredded omelette & sambal peanuts
Nasi Goreng – chicken, shrimp, fried egg, prawn cracker & sambal
Mutton Biryani – with fragrant rice, sultanas & spiced yoghurt
Fragrant Chickpea Curry – with vegetables, cumin yoghurt
Carrot Cake (Chai Tow Kway) – stir fried daikon cake, egg & sprouts
Char Siu Pork – with bok choy.
The Hawker Hall spirit is all about sharing a range of delicious dishes. Guests can simply ask for the 'Hawker Feast' in the "feed me" mode and they will be served a banquet of favourite dishes including dessert. The building was originally a stable, which is most evident in the back half of the building with visible trusses. In a state of disrepair, the building was fully renovated over approximately 12 months with Craig Tan Architects and interior designers, Eades & Bergman.
---
Din Tai Fung - Chinese Affordable
Din Tai Fung, arguably the world's most famous dumpling specialists, have officially opened the doors to their biggest Australian restaurant yet, and the first outside of NSW at the world-class shopping mecca, Emporium Melbourne.
Located on Level Four, Emporium Melbourne (with internal as well as direct external lift access on Caledonian Lane), the 235-seat restaurant boasts three private dining rooms, an Australian-first for the group.
Earning cult status since introducing Australia to its delicious Xiao Long Bao (soup dumplings) in 2008 at its flagship World Square Sydney restaurant, the latest venue will, of course, feature Din Tai Fung's signature glass-enclosed dumpling kitchen where customers can watch the masters at work.
For two talented restaurateurs heading up Din Tai Fung for Australasia, Dendy Harjanto and his wife, Shin, are two of the most lovely, down to earth people you'll ever meet. With an endearing mix of humility and pride in his craft, Dendy explained to our table of food enthusiasts how the dumplings are lovingly made.
The dumplings are all made fresh for the restaurant's customers and weighed twice throughout the creation process: between 4.8 and 5.2 grams without filling, and between 20.8 and 21.2 grams with filling. Each dumpling has at least 18 delicate folds (the chefs count).
The Shrimp and Pork Shao Mai is by far the cutest dish on the menu with the petite pink shrimp resting on the top of the dumpling like a crown. We needed no further inviting.
Vegetarian Jiao Zi is a dumpling with beautiful texture and shape—perfect for vegetarians and makes you feel healthy. Bonus!
The Mango Tango is fresh and smooth, and who doesn't love a straw that's almost as thick as the glass?
The Egg Fried Rice with Fried Pork Chop isn't stingy with its core ingredient, which is a big tick for The World Loves Melbourne. The soft egg throughout the rice contrasts well with the crispy fried pork (perfect after three different types of dumpling).
For dessert, Shin had organised for the North and South Pole to be brought to our table! This picture doesn't quite do their size justice, and we had fun game of it chipping away at the Triple Strawberry and Triple Mango Crushed Ice. The person who topples the mountain onto the table loses, so wield your spoon with skill but beware of a Princess Diaries brain freeze moment! We had the large size, but smaller portions are available.
The Mango Pudding is good on its own, but when you add a capful of condensed milk (as per Din Tai Fung tradition) it takes it to the next level. Check it out if you're wanting something fruity (without the brain freeze).
We finished this stunning meal on a high note with Taro Gelato & Golden Taro Bread. The unique texture of the taro, a popular root vegetable, adds a complicated layer to a simple looking dish.
Din Tai Fung doesn't take bookings because they want customers who make the effort to come all the way to their restaurant to be seated as soon as possible, so hurry down to level 4 of the Emporium, because tables are going fast!
All of Din Tai Fung's venues have their own unique design identity, and Emporium Melbourne is no different.
Din Tai Fung Emporium Melbourne is located on Level 4, 287 Lonsdale Street (or lift access via corner of Little Bourke St and Caledonian Lane) and open for lunch and dinner seven days a week.
For information on the stores please visit: www.dintaifung.com.au
---
Jimmy Grants - Greek affordable
Jimmy Grants is another Calombaris fun convivial dining destination with style, delivering on souvas but also on salads and drinks. The World Loves Melbourne visited Jimmy Grants for complimentary lunch and we were enthusiastic about the experience.
Check out the modern kitchen where you can order take away (often long queues at night) as well as dining in. Perch yourself along the bench on a stool or enjoy nearby tables. Bright coloured stools and tiles and chic timber provide a welcoming feature.
Jimmy Grants delivers on their souvas and we loved the Bonegilla combo of chicken and lamb with mustard, fries, onions and parsley . How Jimmy Grants gets the meat to be so tender is still a mystery. And a good portion and value for money. A key for me is the softness of the flat bread - many other souva joints in Melbourne have stale or crusty souva bread that breaks apart too easily. Here we have delectable bread that is fresh fresh fresh. The chips inside the souva is a playful touch - not soggy but adding to the experience. The mustard sauce is also a killer - a perfect accompaniment bringing some "kick". The parsley enhances the refreshment.
Jimmy Grants is bringing accessibility of gourmet cusine to Melbourne. Most can afford a souva at Jimmy Grants.
The story behind Jimmy Grants is displayed on the packaging - "When I moved from Cyprus to Melbourne in 1949, I got a job at the Docks. Everyone who came by boat was looking for work like me, but no true blue Aussie could pronounce my name. To them I was just another immigrant. Whether you were from Greece, Italy or the Middle East, we were all called "Jimmy Grant".
I also notice you can get 200g of succulent meat from the spit to order, as well as Greek dips and desserts.
Jimmy Grants is taking us further into the casual dining trend. Growing up as a kid we used to always default to pies and pasies and sausage rolls. We've come along way in this country in terms of a multicultural society, as well as in terms of variety and sophistication of cuisine. My kids are now more likely to grab a souva than a pie or pasty. Which is awesome.
---
Jinda Thai - Abbotsford - Thai affordable
Jinda Thai has quickly established itself as a formidable modern Thai restaurant and has a large fan base.
Dishes are authentic, with the odd modern twist, and the staff are upbeat and service excellent. Jinda Thai is also giving back to the punters with a meagre $3 corkage. Walk in to a vibrant modern space full of natural light, which has a different but alluring ambience at night with chic lighting.
Jinda Thai don't "dumb it down" for Western tastes. This is about fresh, tasty, authentic, well presented food.
First up the starters are a highlight, with these Prawn twisters pleasing adults and kids alike with minced prawn, coriander roots, Thai pepper and a spring roll like casing. I could eat these all night...
Jinda Thai has a modern feel with large warehouse converted into a trendy restaurant. Exposed brick and wooden floors ensure vibrant noise levels. Here at 6pm the restaurant was soon full, with more diners arriving later for a second sitting...
Moo Ping Sticky Rice is a rewarding dish with marinated pork skewers and homemade nam jim. Jinda Thai doesn't hold out on the heat and spice, but discreetly they serve the sauce in a separate bowl. These Skewers with sticky rice were a highlight. Oh we love sticky rice and find it's not always available at the Thai establishments we dine at.
Here we have Grandmother Jinda portrayed on the wall. Note the attractive, not cheesy, artwork around the room. Cool lanterns and hip decor. No kitsch here...
We ordered another serving of the Skewers (love the cane basket for the sticky rice)...
The Barramundi Fillet featured a wonderfully crispy skin, with delectable white flakes of barramundi inside. The fish has the right kind of texture and sweetness to suit Thai cooking. This was deep fried fish with green apple salad dressing of green apple, red onion, fresh chilli, coriander, lemon juice and fish sauce. A great combination. We should have ordered another serving of this, as the kids also loved it. One for next time...
Jinda Thai has a casual but hip modern ambience.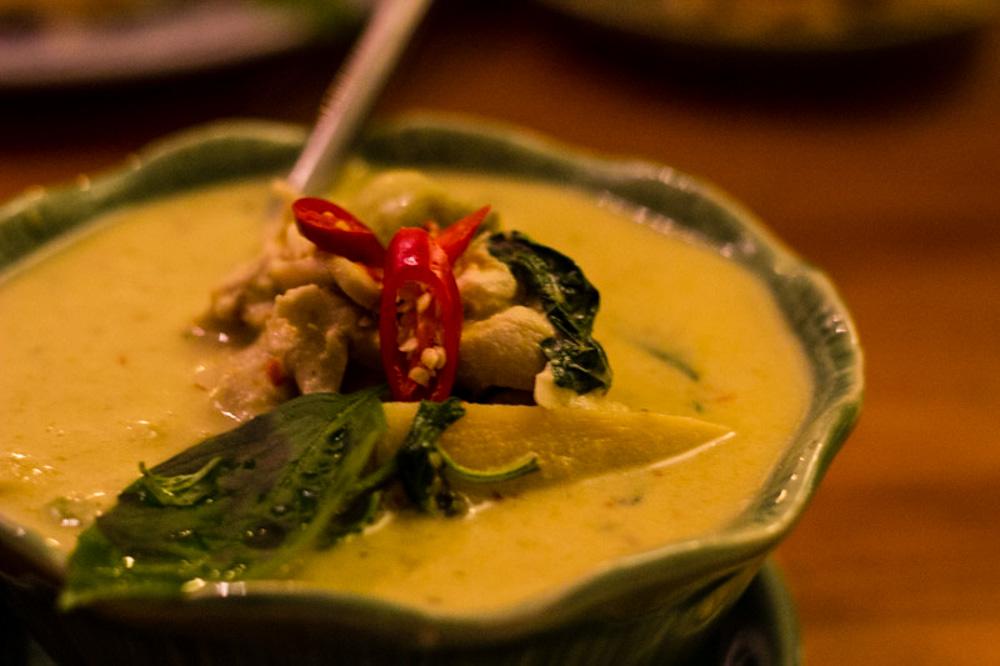 Green Curry Chicken was creamy, spicy and a delightful amount of spice. The heat in this dish creeps up on you...
I find many Thai restaurants in Melbourne cook great pork neck dishes, and the Thai style marinated pork neck at Jinda Thai from the grill was top notch.
The Thai special fried rice with chicken was a meal in itself and one for the kids...
We also enjoyed the Seafood noodles, that surprised us with the level of spice. The kids balked at this dish and its level of spice, finding out that noodle dishes can be hot and spicy...
Jinda Thai offers simple but enjoyable desserts. I'm tipping more people order these because they're not too heavy, and are affordable.
Jinda Thai impresses at every level for its freshness and enthusiasm and is surely one of the best Thai restaurants in Melbourne...
---
Belle's Hot Chicken - Southern American affordable
Excuse the pun but The World Loves Melbourne has a fried chicken bucket list. Belle's Hot Chicken is a Nashville style standout dude food mecca that The World Loves Melbourne finally visited, and we left on a spicy fried chicken high. Get it right - this is not just fried chicken - but spicy fried chicken. Chilli meets chicken in a wonderful connection. Belle's Hot Chicken is the masterstroke of (ex Loam) Aaron Turner and Morgan McGlone (ex Husk in Nashville and Rumours), who flew in to town to work their magic after a stint in a fine dining kitchen in Nashville.
How can you not fall in love with this? A basket of delicious juicy spicy fried wings with golden crinkle cut Old Bay Fries sprinkled with Paprika. Imbibe your fried chicken in various cuts. Wings, tenders, Dark Meat (Drumstick and Thigh), Fish and Mushrooms are the main options. There are degrees of spice and heat - Southern, Medium, Hot, Really Hot and the extreme Really F**kin Hot (for the brave).
The joy didn't end there, having also ordered an additional tender of spicy (extra) hot fried chicken chicken, quality pickles and a smoky Almost Arnolds Beans side. The spicy hot tender was substantially hot (they did warn me) but we enjoyed the heat. What amazed The World Loves Melbourne was that with every Meat dish you also receive a side included. Great value! Don't underestimate the power of the beans side - it rocked my world. The whole meal was substantial and didn't break the bank.
While waiting for the food we nipped out into Gertrude street to find Matt Beyer, a Belle's devotee, with the legendary Morgan McGlone.
All the chicken is quality La Ionica chemical free chicken. The chicken is not soggy and greasy but features a crunchy exterior and juicy interior. Quality cuts make a huge difference. On weekends they serve Waffles and chicken (now famous).
The ambience of this diner is modern and chic, with booths and retro signage of the DINER sign a talking point. Located below The Everleigh, large windows overlook trendy Gertrude Street.
American beers grace the drinks list, as well as "natural" wines.
Belle's Hot Chicken lives up to the hype as far as The World Loves Melbourne is concerned and we look forward to future visits. Highly recommended.
---
Mr Ramen San - Authentic ramen
Mr Ramen San is an authentic ramen house in Mid City Centre (access Bourke or Little Bourke St), with owner Roystan having been trained by Japanese masters and bringing influences of the Kyushu area of Japan. Melbourne is undergoing a ramen revolution and Mr Ramen San is at the forefront. Mr Ramen San is well known for it's traditional charsu pork ramen featuring the cloudy white broth; this is the result of cooking the broth in pork bones for 10 hours. There are no shortcuts here. Mr Ramen San has been receiving widespread acclaim for its ramen experience; high quality and affordable!
Broth is a key to great ramen! We consider Mr Ramen San to have some of the best broth in Melbourne. It's authentic. The time is taken to make it properly and with pride. And of course no MSG in sight! The World Loves Melbourne doesn't enjoy some of the thin weaker flavoured ramen broths going around; we crave for the in your face thicker pork bone stock broth! Bring it on! And we don't feel guilty about slurping!
Cheap eats are about both quality and quantity; value for the price. When it comes to meat in ramen, The World Loves Melbourne considers Mr Ramen San to offer a generous serving compared to many other ramen houses. We enjoyed the charsu pork with several thick slices of ramen (some places give you a couple of small ultra thin pieces). We found the meat (and tofu and seafood) in the various ramen dishes to be consistently generous.
Also great value is the ability to order extra noodles free. A feature at Mr Ramen San is the house made noodles made fresh daily. Not only are they sumptuous in themselves, Mr Ramen San offers FREE extra noodles upon request. This is unlike most places who charge for extras.
Mr Ramen San is great for city workers, and they often run promotional deals. Customers enjoy the sheer variety of ramen with a host of options including Charsu traditional Ramen, Beef Miso Ramen, Spicy Chicken Ramen, Vegetarian Tofu Ramen, Seafood Ramen, Spiced Pork Nabe Ramen, and Teriyaki Charsu Ramen, to name a few.
Service is paramount here with eager staff greeting customers on arrival and attentive to tables, all with a smile. You feel welcome here! Many people comment on the pleasing ambience at Mr Ramen San and a vibe you may also expect in Japan. There's decent room in the restaurant and tables are not crowded together. In no way are you rushed in your dining experience. Highly recommended.
---
Banoi - Docklands - Vietnamese affordable
Banoi is an exciting bright new Vietnamese eatery in Docklands that impresses with its colourful vibrant ambience, keen service and interesting cuisine. It's a breath of fresh air on the Melbourne culinary scene. I've visited Banoi about 7 or 8 times since its opened and its now a lunchtime mainstay for The World Loves Melbourne. Some of my work colleagues also value Banoi as a destination of choice. In a sea of bain maries in Docklands, Banoi stands out with its fresh flavoursome cuisine including pho, banh mi, vermicelli dishes and rice paper rolls.
In terms of lunch time value deals, the $15 option at Banoi is excellent - pho, spring rolls, half a banh mi and a drink. Just fill out the form on the table and pass it to the wait staff.
I associate Vietnamese eateries with fine iced coffee and Banoi doesn't disappoint. They put a little condensed milk in the coffee for some extra sweetness.
The pho was delectable and served in this large cup. I understand that traditionally Vietnamese joints serve up pho in massive bowls, but I loved this kind of Vietnamese bento concept, of having a bit of everything. I don't always need a massive pho that feeds 6 families.
The pho itself was top notch and full of meat, with a tasty broth and quality noodles. The spring rolls were also tasty with appropriate crunch on the outside and excellent sweet chilli dipping sauce. And the banh mi was also flavoursome in crunchy fresh bread, with pork, carrot, garnish and paste.
When you add up the components you would surely pay more than $20 normally for such a selection.
Check out the Pork Vermicelli dish above - one of the favourites at Banoi. I love the explosion of colour and overall presentation of the meal.
And the Soft Shell Crab Vermicelli is sumptuous with crunch and then softness of crab and sweet and sour tastes of sauce over vermicelli. I was glad to see this dish as part of the $15 lunch deal. I found myself drowning in a sea of satiation and bliss as I imbibed. Banoi sells out of the Soft shell crab nearly every day.
Banoi boasts keen and enthusiastic staff who want to please and gain feedback. The owners are hands on and work on site, with Brock the young trendy face of Banoi. They have big plans and are executing step by step. An expansion of breakfast trade is planned to complement high demand at lunch and dinner.
Banoi prepares much of its food on site - which pleases office workers like me that struggle with too many bain marie meals in a row.
Banoi serves up some of the best rice paper rolls around. These rolls are giant and full of crunch and gourmet flavours, including the chicken and pork options, as well as duck. Grab some to take away, with a selection of sauces.
Banoi has a modern fit out with great use of timber, vibrant coloured tables, and funky lighting. I enjoy the stools with bike chain and pedals.
Banoi opens up its front area in summer, and the ambience is exceptional. Only in its initial first weeks of opening, Banoi has been consistently packed with office workers at lunchtime. They also do a roaring trade at dinner, and are building up their breakfast trade. The mood here is not aloof cool like some Melbourne establishments, but it brims with colour, noise and fun. Highly recommended.
---
Mamak CBD - Malaysian
Mamak is the Sydney sensation now in Melbourne giving us Malaysian cuisine with flair and style. This is not 3 hat dining but Mamak hits the mark in delivering quick, satisfying cuisine in a modern restaurant near Hardware Lane. Strip away the hype and Mamak is an enjoyable experience whether dining alone or with friends.
Every Malaysian friend I've had has been passionate about food. It seems part of the culture. I'm so glad this passion could be shared with Melbourne via Mamak. Mamak exudes a passion and an authenticity, claiming the cuisine is as authentic as on the streets of Kuala Lumpur. I've never been on the streets of KL, only in the airport overnight, but I was impressed by the quality of the food at Mamak.
Image Mamak Instagram. I walked in one lunchtime to discover a packed noisy restaurant. There was plenty of action, probably like the streets of KL. Business people, students, couples, and a mix of nationalities were here enjoying Mamak. Very Melbourne. It was the kind of place you wanted to be - with an attractive ambience. The warmth of the conversation was nearly matched by the restaurant fit out - with large food and street scene photos mounted on the warm coloured walls.
An open kitchen added to the action - in fact there seemed to be two preparation areas. Busy wait staff were run off their feet but showed good poise under pressure.
Mamak are famous for their roti dishes (masters of Roti), great satay, Malaysian style fried chicken, classics like Mee Goreng and Nasi Lemak, and killer curries. This is a comprehensive menu with street food hawker kind of cuisine.
Asking the waitress what to order I was recommended the Kari Ayam Chicken curry. Sounded simple. But I was delighted with the dish that followed. So glad it had a fair amount of kick from the freshly ground spices. Spicy bold flavours (so cool because some places water it down for Aussie palates). To me it seemed like a rendang syle and there were decent portions of tasty perfectly cooked and marinated chicken in the curry sauce. As well as chunks of potato. This baby had some heat... Which is why Mamak is authentic - staying true to how it should be.
Mamak is an enjoyable Malaysian experience in the Melbourne CBD and is a great addition to this city.
---
HuTong Dumpling Bar - Classy affordable dumplings 6 Market Lane CBD
Hutong Dumpling Bar is a serious contender for Melbourne's best dumplings. The Xiao Long Baos are sublime and a well crafted and tasty dumpling. The food here is of a high quality for a reasonable price. Added with excellent ambience, this restaurant is a winner.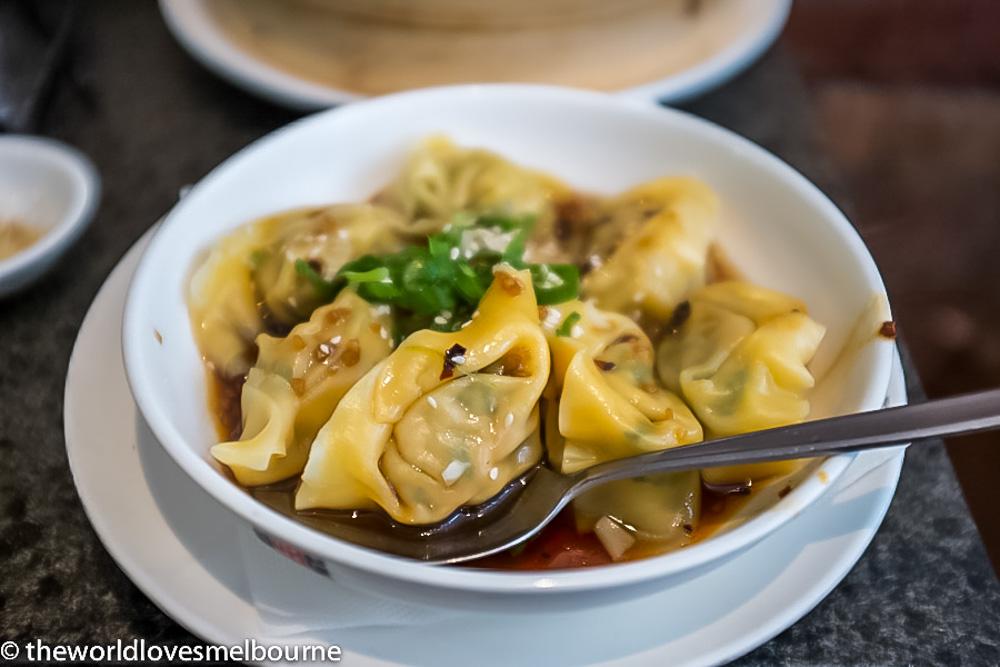 The dumplings are a class above most others. You can see the chefs preparing the dumplings by hand with fine skill through the kitchen window. The excellence of those Xiao Long Baos is in the fine casing that only takes a little bump or prick to break. Yet these dumplings hold together well. The meat filling inside is tasty and of quality. But the high note is the soup or broth that fills these dumplings. When you eat them they just explode in your mouth with wonderful flavours.
People who say they can find cheaper dumplings nearby – honestly, they need to consider the great quality of HuTong dumplings. Getting 1000 dumplings for $5 might sound great but if they're average to start with who cares. And the atmosphere here is excellent. The upstairs section has a great ambience with attentive staff.
On my first of half a dozen visits to Hutong I was given a lesson in dumpling consumption by a waitress... Never I repeat never cut a dumpling in half. Always consume in one hit. First dip the dumpling in soy and chilli... When eating those Xaio dumplings the waitress told me to put the dumpling in my mouth then suck the broth in the dumpling - before eating the rest. Absolutely sensational.
Shredded pork here is also great. The twice cooked pork (which I've had twice) is a sensation with rice. People keep asking me what twice cooked means and why it's necessary – come here and try the twice cooked pork and you'll find out. Simply, cooked twice means cooked partially using one method then finished off cooking with another method. Or in some places it may mean undercooked the first time and sent back to the kitchen to be cooked properly. Wouldn't happen here. The noodles also rate at Hu Tong. And I enjoyed the fried rice with good fresh ingredients - and not too greasy. You'll keep coming back.
---
Huxtaburger - Gourmet affordable burgers - Collingwood, CBD, Prahran and various locations
Huxtaburger is a contender for Melbourne's best burger. Just across the road from the epic Huxtable restaurant on Smith Street is this popular burger joint that delivers big time on quality gourmet burgers, great crinkle cut chips and beer. A killer combination. The value here is incredible and might just get you through the latest Global Financial Crisis.
Huxtaburger has done its homework on what makes a great burger. They simply have great buns. Glazed brioche buns. The burger bun melts in the mouth. You don't get that heavy starchy hit of bread but rather the bun combines wonderfully with the rest of the burger.
The strength of Huxtaburger is that they keep it quality and simple. Other burger joints add varieties of burger that just don't work. Everything at Huxtaburger works.
My favourite is "The Huxtaburger" which has those awesome buns, crunch of great lettuce, quality gherkin, sublime patty of Moondarra Wagyu beef and melted cheese, tomato, mayo and ketchup. For a little extra you can get some great crinkle cut chips.
Like everything Daniel Wilson does, there is adventure, amazing gourmet flavours yet sublime balance. There is kick in the mayo and pickles but it doesn't dominate the quality beef. The sensation is of a delectable light and slightly sweet burger. A contender for Melbourne's best burger.
At huxtaburger there is also a tie in with the Cosby show. The burger called "Bills" contains bacon, egg, pineapple and beetroot for only $10.
The "Theo" with the double pattie and double cheese caters for those that love a huge mother of a burger, with finesse and it's true to the best of a classic burger.
Then there's the "Denise" which has some kick with Jalapeno.
Service is great here - in the three times I've been the staff have been engaging and friendly and professional. Table service at a burger joint is sensational.
Huxtaburger is a great place to dine with friends for amazing quality and value.
---
Shandong MaMa in Mid City Arcade CBD - Chinese affordable
Shandong Mama is an exciting addition to the Melbourne culinary scene in Mid City Arcade and can lay claim to the best dumplings in Melbourne. Mama is a retired ex accountant from China who spent years cooking for friends in her social circle in Shandong Province. She's had the courage to start this homely restaurant with her delightful family here in Melbourne. Friends and relatives are part of the scene. Mama has a passion for healthy, delicate cuisine. It's exciting to see a Shandong Restaurant (one of the 8 major Chinese cuisines) in Melbourne.
Mama is particular about process and having the best ingredients. You may find her at Footscray or Springvale markets sourcing the finest ingredients for her dumplings. The fish dumplings include expensive mackerel in the filling, for example, hand picked by Mama.
Mama is not keen to use electric kitchen tools to stir the dumpling mixture, but she throws her shoulder into every batch. These dumplings have the perfect (thin) casing, exciting fillings and broth. There is more imagination here than most other dumpling houses in this city.
For example the Prawn, Black Fungus and Chives Dumplings are delectably filled with large chunks of prawns with chopped chives and black fungus, a small amount of mince for texture and flavour, wrapped in thin dumpling skin in-house.
Mama uses the highest quality prawns in these dumplings, not shrimps. Being from the coastal city of Yan Thai in Shandong Province Mama has an affinity with the sea and loves to cook seafood.
The Fish Dumplings consisted of fresh mackerel fillet mixed by hand with coriander ginger and chives, into a mousse-textured filling, wrapped in home-made thin dumpling skin. The dumpling holds together well, and is tasty without being overpowering. This is a delicate dumpling.
The Pork and Cabbage Dumplings also have spring onions, ginger and a dash of dried shrimps for a superb dumpling.
When you think you've just had some great dumplings, out comes the Melbourne Dumpling. It's Mama's nod to multiculturalism in Melbourne. This baby sings! I managed to catch an aftertaste of the lemon rind and it was wonderful.
There's also a beautiful Vegetarian Dumpling with zucchini...
For me these dumplings are the most delicate, tasty, and well made dumplings I've eaten in Melbourne. Both the pan fried and boiled dumplings were both sensational.
You can get the larger Shandong dumplings here, bigger than the usual size around Melbourne.
The fit out is pleasant and spacious with some plants, menu boards, and plenty of tables.
Source : https://theworldlovesmelbourne.com/things-to-do/best-cheap-eats.html
Related Posts